Neuigkeiten
CLASSIC FIRE ENGINE FROM DORSTEN-LEMBECK IS COMING TO CRAWLEY
(erstellt am 03.03.2017 von Peter Klin)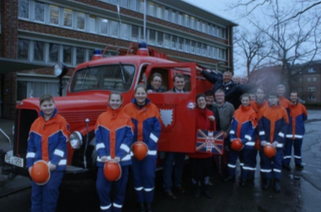 Dear members and friends,

We are pleased to announce that 1958 German registered Mercedes Benz LF311 classic fire
tender affectionately called red OMA (Grandma) is being driven from Dorsten to Crawley.
The vehicle will be leaving Dorsten on Monday 13th March 2017 and is expected to arrive
in Crawley on Tuesday 14th at about 3.30pm - 4.00pm in the afternoon.

The "OMA" and its crew will arrive at the front car park of the Town Hall.
Crawley Firefighters are going to host the Dorsten Firefighters. The Mayor of Dorsten
Herr Tobias Stockhoff is travelling with them along with the Chair of the Dorsten
Twinning committee Frau Marita Kipinski and three other Dorsten twinning committee
members.

We do hope that Crawley committee and twinning members can join us to welcome them on
the day.